Live Demo / Detaills / Buy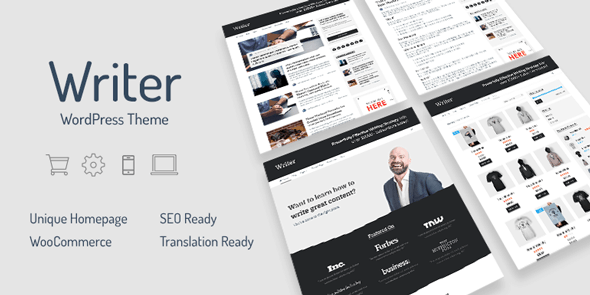 Writer – Professional WordPress Theme is a fully responsive and impressive WordPress theme for writers, freelancers, authors, and journalists. It is free of clutter allowing readers to focus on the content. Writer theme has 3 pre-defined layouts with a 1-click installation. The fonts are readable, and the subtle color scheme makes it suitable for all writing projects.
An ideal WordPress theme by MyThemeShop for Writers should be lightweight, SEO-friendly, fully responsive, with elegant typography, and visually appealing features that help in content promotion.
Writer theme is professionally designed and aesthetically accomplished WordPress theme aimed at helping writers and freelancers get creative.


Writer – Professional WordPress Theme Features – Summary:
– As you will find out, Writer theme has four pre-defined layouts that come with the 1-click installation.
– The following are the qualities of Writer theme that define its apt for writers, authors, journalists, personal bloggers, and freelancers:
– Fully responsive design with smooth transition across all screen sizes.
– SEO friendly layout that ensures your content rank higher in search results.
– Clean design with no clutter making it easy for visitors to focus on your content.
– Unlimited customization options to help you build a classic and unique site.
– Writer theme has two header layouts.
– Have three blog post layouts that allow you to have different content displays.
– Beautifully designed Homepage with various sections that you can rearrange or disable each section.
– Writer theme is a multipurpose theme suitable for different writing and content marketing projects.
– If you are a business savvy content developer who wants to build an engaging audience online, Writer theme is what you need.
General Settings:
– Upload A Logo Image
– Add a Favicon
– Upload Touch Icon Mobile Devices
– Add a Metro Icon
– Enter Twitter Username
– FeedBurner URL Option
– Add Scripts in Header Section of the theme
– Footer Code Option like Google Analytics code
– Choose From 4 Different Pagination Options
– Activate AJAX Quick Search
– Enable or Disable Responsiveness
– Right To Left Language Support
– Set the number of WooCommerce Products To Show

Take a look at our collection of Blog/Magazine/News WordPress themes!
---