Live Demo / Detaills / Buy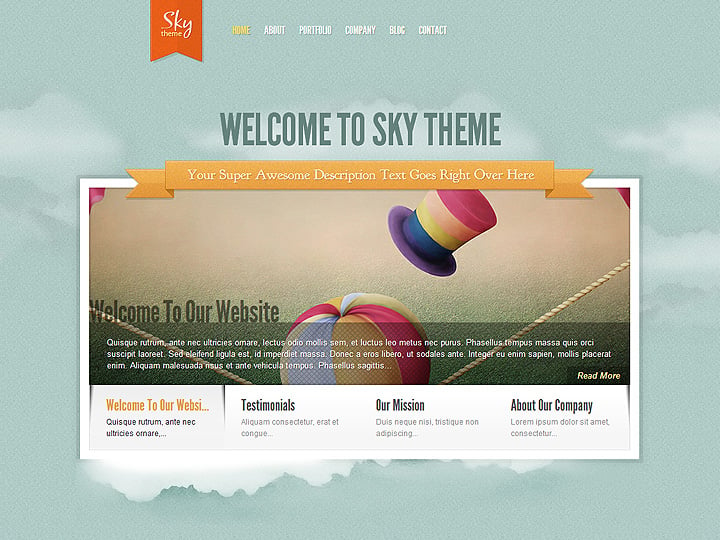 Sky floats above the pack in style and its sense of whimsy is sure to leave your visitors surprised and refreshed. Sky is unique in the way it's homepage operates, loading all of your content seamlessly using ajax. This means that no matter how many pages you have in the "slider," your initial page load speed will be lightning fast as each page is only loaded when it is displayed.
Browser Compatibility
We ensure that all of our themes are compatible with the most popular internet browsers. It's important that your website performs well for everyone who visits it.

Theme Options
The ePanel theme options panel comes with all of our themes, allowing you to easily control your website without ever touching a line of code. ePanel allows you to toggle on and off features, adjust your layout, manage advertisements, control colors, optimize for search engines and more! ePanel integrates with the WordPress Dashboard and will appear automatically when you activate any of our themes.
Shortcodes
Designing and organizing your posts has never been easier. With our large collection of shortcodes, you can create beautiful and complex layouts without having to delve into a sea of complex code. Shortcodes will greatly improve the functionality and variety of your content without the frustration that comes with learning advanced web development techniques.
Page Templates
Our page templates make your life easier by giving you access to pre-made styles and functions. Each template can be applied to an individual page, transforming the way it looks and functions to create additional and unique forms of content. Easily create galleries, contact pages, sitemaps, blog feeds and much more using the Elegant Themes Page Templates.
Complete Localization
All of our themes have been localized for easy translation. Included with each theme are sets of .mo and .po files that can be used to translate the theme, which means you wont have to spend hours editing PHP files.
Four Unique Colors
Sky comes with four unique colors schemes to help ensure that there is a style that suits your needs.
---