Live Demo / Detaills / Buy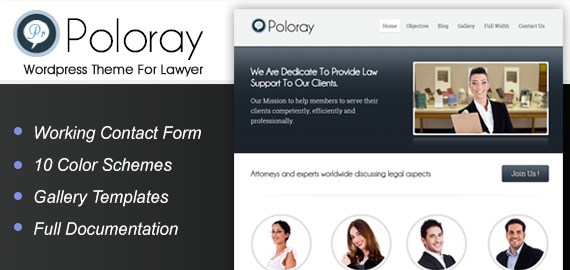 WordPress theme for private lawyers, mediators, law firms and jurists.

Poloray is a Lawyer WordPress Theme specially designed for law companies, attorneys, mediators, private lawyers, law firms, jurists, or any other law related niche..
As a lawyer, attorney or a judge if you are into legal services, affiliated to lawsuit company or practicing your own legal activities then Poloray is a perfect business law theme to run your private or professional WordPress website.
As a lawyer one can reduce their manual efforts by applying this lawyer company WordPress theme on their personal websites.

The theme has all the features to present your legal services online. One can also show case attorney personal profiles if you have a team of lawyers working in your office.
Demonstrate your services like type of legal cases you handle, case history etc. It is designed for law firms and legal offices still it can be suited for other business niche.
This best lawyer theme for WordPress is a handy way to describe your legal solutions and offers. This WordPress theme contains everything that lawyer requires to create a modern website to carry legal activities.
Besides, it is a multi-purpose adaptive lawyer theme.
Firstly, it is featuring full-width moving sliders with lightweight-content. You can easily pitch your business USP in these sliders. Next, the most fantastic attribute is reflected in tri-featured circular design panels where you can proudly show your desired organization's services and givings.
One of the prime factor is, on the home page itself, you can neatly display description of your venture's objective in detail. It's helpful to give instant awareness to your audience about your business.
Plus you have the ability to customize your post and pages instantly. Empowered with various styling colors, WordPress widgets, inbuilt Blog/Page/Contact/Gallery templates, the front-end framework is flexible enough to create profile for law or other business niche website.
---