Live Demo / Detaills / Buy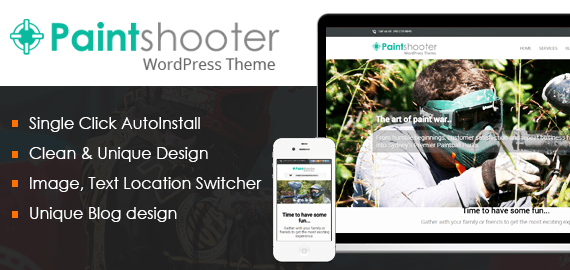 For paintball activity organizers, parks, clubs & centers.

PaintShooter is a premium WordPress theme that we have designed for paintball fields and parks, online communities of paintball players, your paintball blog, or paintball activity organizers.
With paintball images in the slider in full screen, images in the featured section, images in the hexagonal portfolio on the homepage, and images showing as blog thumbnails, your website will obtain the perfect makeover you want your website to have.
PaintBall is an aggressive game, and so the aggressive design of this theme would best fit your website.

Show Awesome Images in the Slider: Use your camera and take some good snapshots of the paintball field or take images while playing the game. Upload these images to the slider. Display lots of images in slide.
Tell Specialities of your Paintball Club: You see four columns in the demo. Provide the most important information from here. People need to know how the game is played in your club, what are the best things at your paintball game site, what are the equipments used, what paintball gears do you provide, do you have any special segment for family members, children, girls, and pro-players.
Write & Share About the Paintball Game: Share game experiences, paintball safety tips, write about your club or organisation, or share your club activities with your website visitors. Blogging will be really good if you are quite much involved in paintball activities.
Users can easily find lots of more additional information through blogs since a good number of your recent posts are visible on the homepage.

PaintShooter WordPress Theme – All Features
Hexagonal Portfolio Filterable By Category.
Easy, simple to setup.
4-Column Feature area.Business tagline feature.
Quick navigation enabled.
Recent blog posts on homepage.
Background image with parallax scrolling effect.
8 amazing color styling options.
Widgetized sidebar & footer.
Integrated Social Icons.
Desktops, iPhone, iPad, Tablets, Mobiles and all device compatible.
Show 8-images on homepage slider.
Built on BusinessGrow WordPress theme layout.
---