Live Demo / Detaills / Buy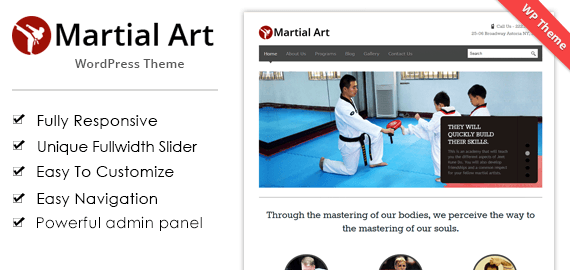 For Martial Arts Schools & MMA Academies

"Martial Art" is a powerful and flawless WordPress theme for martial arts schools, MMA training academies, and individuals who run martial art classes, and training schools.
The theme architecture is completely flexible where you can display in what style you prefer to teach. This WordPress theme has customized various sections where you can tell whether you are specialist in particular style or prefer to teach a combination of other martial arts like Kung Fu, Tai Chi, Grappling and Kickboxing that is what called mixed martial arts or MMA.
The theme has various customization option and various page layouts to show your each program in uniques style.
Have a look to Martial Art Video demo

Who Can Use This Theme?
Mixed Martial Arts (MMA) Classes
The theme is designed by considering various aspects of mixed martial arts schools in mind. That's why it is the perfect option to select this WordPress theme.
Specialty Sports Classes
Other specialty sports classes including focused martial arts like kung-fu, wing chun, tai chi, muoi tai, karate lies in this category. The theme is completely adaptable to such martial arts schools.
Other Sports Academies
There are many sports academies offer various courses like football, tennis, cricket training. These training organizations can also use Martial Art WordPress theme.

Features of Martial Art WordPress Theme
Easy to install and set up.
Ajax based admin panel.
Cross browser checked.
Top right contact detail and address option.
Background image option.
Homepage slider.
Featured 3 column area.
Custom client testimonial option.
Stylish social icons.
10 different styling colors to change the color scheme of your website.
Custom footer text option.
SEO options inbuilt.
Responsive WordPress theme and checked in all major devices including iPad, iPhone, mobile phones, and laptops.
Various page layouts like default template, blog page, contact page, full-width and gallery page layout.
---