Live Demo / Detaills / Buy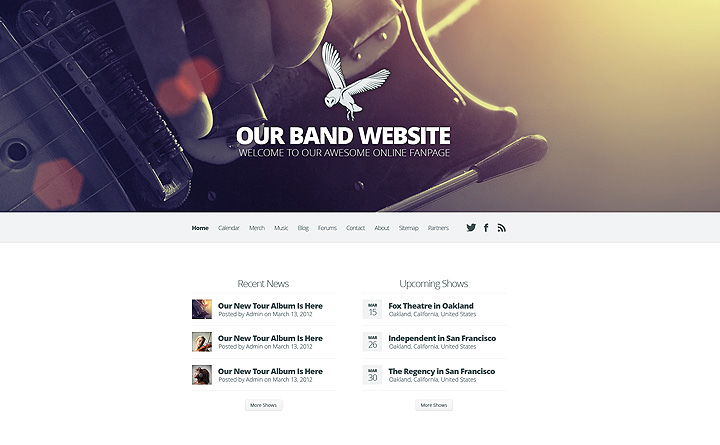 Join our 385,236 members today to download this theme plus 87 more!

Harmony is a versatile WordPress theme for bands and musicians. This theme has all of the features that a band would need, including the ability to play songs, handle events, upload photo galleries and sell merchandise. Harmony's style is bold and features big and beautiful background images that can be easily customized to give your page a unique look. Every band needs a great online presence for their fans to find, so get started today with Harmony!
Unlimited Colors- using the Theme Customizer and Custom Background Images, the possibilities are endless!.

Responsive Design
Now your website will display beautifully and intuitively on all devices. Harmony uses CSS media queries to trigger different layout sets at various screen sizes. If you have been looking for a simple and professional layout that is also Mobile and Tablet friendly, then Harmony is definitely the theme for you.
Theme Options
The ePanel theme options panel comes with all of our themes, allowing you to easily control your website without ever touching a line of code. ePanel allows you to toggle on and off features, adjust your layout, manage advertisements, control colors, optimize for search engines and more! ePanel integrates with the WordPress Dashboard and will appear automatically when you activate any of our themes.
Shortcodes
Designing and organizing your posts has never been easier. With our large collection of shortcodes, you can create beautiful and complex layouts without having to delve into a sea of complex code. Shortcodes will greatly improve the functionality and variety of your content without the frustration that comes with learning advanced web development techniques.
Page Templates
Our page templates make your life easier by giving you access to pre-made styles and functions. Each template can be applied to an individual page, transforming the way it looks and functions to create additional and unique forms of content. Easily create galleries, contact pages, sitemaps, blog feeds and much more using the Elegant Themes Page Templates.
---