Live Demo / Detaills / Buy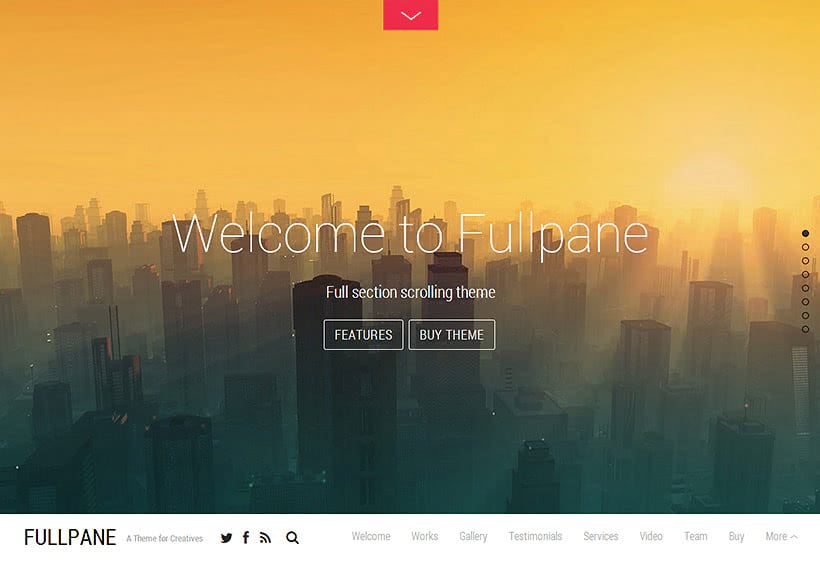 Fullpane – responsive WordPress theme is a retina ready theme with full section scrolling like the iPhone 5C and JOBS movie site. Every pixel is hand-coded to perfection using the latest and greatest code in the world of CSS3, JavaScript, and HTML5. Fullpane includes many different layout options, custom post types, and animations effects. It is a multi-purpose theme that allows you to create colorful and stunning websites for personal blogs, agency websites, and photographers or videographers showcasing their portfolio.


FEATURES of Fullpane – responsive WordPress theme:
Responsive & Retina Ready
It is built to work on all modern browsers, across all devices, whether it's desktop, tablet, or mobile. Fullpane is even Retina ready.
Drag & Drop Builder
Fullpane includes the drag & drop Themify Builder, allowing you to build and edit page layouts by dragging and dropping modules on the page itself, without having to worry about coding.
Single or Multiple Pages
Fullpane – responsive WordPress theme can be used as a single-page website with full sections scrolling, or as a website with multiple pages and page layouts.
Full Section Scrolling
Fullpane includes full section scrolling functionality, allowing you to display any sort of content, be it text, call to action text, videos, images, and maps.
Full Section Gallery
Galleries can be displayed quite easily in the full sections of Fullpane and created using the WordPress Media Gallery or Gallery custom post type. Galleries in Fullpane have auto-play and timer functions.
Portfolio Post Type
Showcasing your work with Fullpane is easy: use a featured image or an image slider, and the details for your portfolio work open in lightbox with a zoom-in animation. Portfolio layout options include the slider, 4-column, 3-column, and 2-column layouts.
Testimonial Post Type
Use a beautiful slider with a thumbnail to put a face to a name, or the bubble text styles.
Team Post Type
Team posts allow each of your team members to connect their social media accounts to their profiles as well as animated bars to highlight their skillsets. Team layouts include sliders, 4-column, 3-column, and 2-column layouts
Highlight Post Type
It comes with the Highlight Post type, which is used to show off product features or services of your company. It comes with animated circles, to really spice up the presentation of your features or services.
Animated Bars
Fullpane allows you to include animated bars anywhere in your website, using any color, any width, and any text label of your choosing.
Blog Layouts
This theme includes various blog list-post and grid view layouts
Custom Menus
Custom menus in Fullpane can be set on a per page basis, with auto menu highlighting for section pages.

Take a look at Similar WordPress themes!
---