Live Demo / Detaills / Buy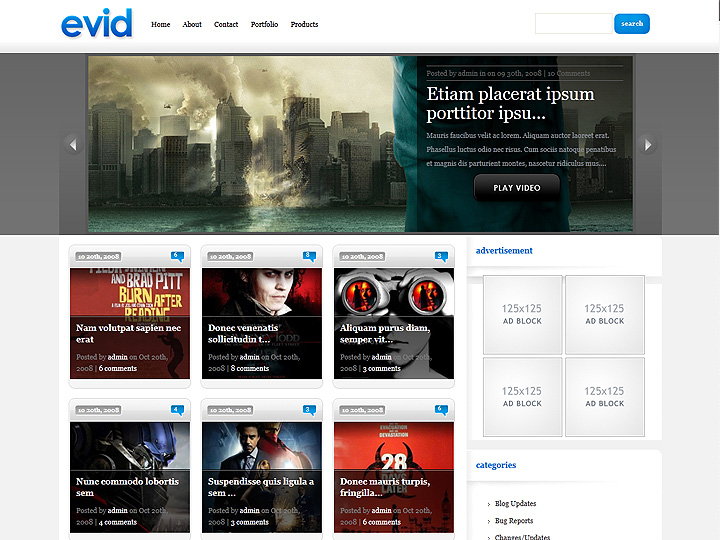 eVid is a theme designed for video bloggers. I have set it up to easily integrate videos from video hosts such as Youtube, Vimeo, Veoh, MetaCafe, and so on. This theme does not have a native video player, but it does include a custom video interface with added "blogger-related" functions. This theme is only for sites that plan to showcase videos within their post pages. I have test the theme with all the most popular video hosts, but I expect that it will work with any website that offers a flash embed code.

Layout
The layouts tab allows you to adjust the structure of your site, such as removing or changing certain design elements.
Ad Management
Our themes come with various pre-defined ad locations. The Ad Management panel allows you to enable and manage these banners.
Colorizations
The colorizations panel allows you to quickly adjust the colors of various parts of your theme, such as font and background colors.
SEO Control
Manage your titles, keywords and description meta tags, as well as canonical URLs for your homepage, posts, pages and categories.
Integration
The integration tab allows you to input code into various areas in the theme. This is useful for adding, for example, social media or analytics snippets.
Image Gallery
Easily create image galleries. Galleries support pagination and jQuery lightbox popup effects for easy viewing.
Contact Form
Now you can quickly add contact forms to your website using the contact form page templates. Includes captcha to reduce spam.
Sitemap
Give visitors and search engines a complete view of your website using our sitemap page template.
Advanced Search
The advanced search page allows your visitors to perform more dynamic searches, making each seach sortable by post, page and category.
Member Login
Instead of sending people to the branded WordPress Dashboard login page, you can have people log in by using a form on your page.
Blog Feed
The blog feed page allows you to add posts from various categories to a page, instead of sending them to a single blog category.
Multimedia Portfolio
Display video and images with ease. The portfolio page template includes three different thumbnails sizes and supports portrait orientation.
---