Live Demo / Detaills / Buy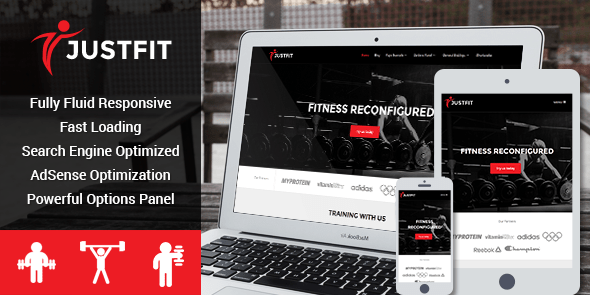 JustFit – Responsive WordPress Theme is the ultimate fitness and exercise WordPress theme. Whether you run a fitness community, are a personal trainer, publish as an online magazine, or own a local gym, JustFit has the features to help you grow your following. Show off testimonials, results, products and workouts, and still maintain a blog.
JustFit is the only theme you need to create a fitness blog, a health product website, a place where you can publish health related articles or sell your eBooks, etc..
JustFit theme is not only well-coded and SEO friendly, it also features a unique blend of sleek and engaging design. With dedicated features for adding products, exercise types, and testimonials – it is a must have theme for health bloggers, fitness centers, personal trainers, supplement sellers or someone wanting to start any of these in future.
JustFit is 100% fluid responsive and compatible with WooCommerce in case you want to sell your tangible or intangible products.
There is a magazine style blog layout included as well if you want to use this theme just for blogging purposes.
General Settings of JustFit – Responsive WordPress Theme
– Upload Your Logo
– Upload a Favicon
– Upload Touch Icon Mobile Devices
– Add a Metro Icon
– Field for Twitter Username
– Feedburner URL Option
– Section for Header Code
– Footer Code Option
– Add Copyright Text
– Choose From 4 Different Pagination Options
– Activate AJAX Quick Search
– Disable Responsiveness
– Enable Prefetching
– Enter Number of Products To Show

Styling Options
– Choose A Color Scheme
– Left or Right Sidebar Selection
– Enable or Disable Footer Widgets
– Choose Between 3 or 4 Widget Footer Style
– Unlimited BG Color Options
– 60 BG Image Options or Add Your Own
– Add CSS in Custom CSS Field
– Enable and Disable Lightbox Option

Homepage Settings
– Homepage Layout Manager
– Drag and Drop Section
– Arrange Sections Easily
– Disable or Enable Section With One Click
– Upload Featured Area Image
– Add Featured Area Title
– Edit Featured Area Button
– Option For Additional Slides
– Choose Text Alignment
– Add Patnerts Title
– Upload Partner Logos
– Change Partner Links
– Add Training Icons
– Change Title for Training Items
– Showcase Trusted Athletes
– Add Featured Athelete Images
– Choose a Custom Image for Trusted Athletes Section
– Add Benefits
– Choose Icons for Benefits
– Change BG Color for Benefits
– Add a Facilities Section
– Separate Section for "Ambitions"
– Dedicated Section for Meals Plan
– Athelete Progress Section
– Add Videos in Athelete Progress Section
– Customize Athlete Progress Button
---