WP Review Pro – WordPress Plugin is the perfect review plugin whether you are reviewing products, books, movies, games, or anything else. A total of 14 types of snippets are supported, and you can select your preferred snippet in a few clicks.
WP Review Pro's powerful features do not come with complexity. You can use star, point, percentage, thumbs up and circle rating criteria to create perfect reviews for all products. WP Review Pro ships with 16 pre-made templates that you can start using immediately. To tailor each template to your brand, you can also customize each template's colors and other elements from the control panel itself.
WP Review Pro can help you boost conversions on your ecommerce store by replacing the basic WooCommerce reviews forms with the advanced, customizable review forms in WP Review Pro.
It's a biggest update to WP Review Pro and packs some powerful features.
Here is a small preview of what users of WP Review Pro – WordPress Plugin, Version 3 can accomplish:
– Import your reviews from other plugins to WP Review Pro in a single click
– Create an unlimited number of unique reviews by choosing any of the pre-made templates and customizing them
– Create a comparison table for the products/services with just a Shortcode
– Create reviews that can be embedded to any other website with a backlink to your website
– Allow users to review the features of your products, even for WooCommerce
– Import and embed reviews from Google, Yelp, and Facebook in a single click
and many more.
The features above are just a preview. To truly understand all the things that WP Review Pro can accomplish, check WP Review Pro.







Here is the full list of WP Review Pro's features for a quick rundown:

– WP Review Pro – WordPress Plugin supports 14 types of rich snippets including products, movies, books and more.
– You get 16 pre-made beautiful templates to choose from. Each review is designed with a specific need in mind, and each template can be customized to your heart's desires
– WP Review can be used to create star based, point based, percentage based, circle based, or thumb based reviews.
– WP Review Pro has an innovative feature where users can leave ratings for the product as well.
– WP Review Pro has been extensively tested, and is compatible with all WordPress themes.
– You can easily integrate Google Places reviews on your website with WP Review Pro.
– You can integrate Yelp Business reviews on your website in just a few clicks.
– You can import reviews from your Facebook page to your website with the help of WP Review Pro.
– WP Review Pro can dynamically create comparison tables for products to be compared in just a few clicks.
– WP Review Pro's innovative Popup and Notification Bar feature helps bring you more visitors to your reviews.
– Easily replace boring, standard reviews on your online store with WP Review Pro's beautiful and functional product reviews. WP Review Pro works with WooCommerce beautifully and completely replaces its review system.
– WP Review Pro offers advanced customization ability without any of the complexity with its industry-leading options panel.
– It's likely that more people will visit your website on their phones. WP Review is designed to delight visitors, no matter what devices they use with its full responsive ability.
– WP Review Pro – WordPress Plugin adds beautiful, interactive reviews on your website, without any server load. Even when you use WP Review Pro, your website will load as quickly as before.
– WP Review is made with clean, optimized, well-documented code. It's been extensively tested to be secure even against the most sophisticated attacks.
– WP Review Pro is fully translatable. That means you can create reviews in the language of your choice and serve visitors from around the globe.
– WP Review Pro is designed for users and developers alike. Plugin developers can leverage the powerful architecture of WP Review Pro to create their own features and extend the plugin with many filters built within.
– WP Review Pro ships with 10 custom widgets that help you embed your reviews in multiple areas of your website.

A team of WordPress experts support WP Review Pro completely. The support staff is friendly, helpful, and available 24x7x365.
The panel makes it easy to customize and use WP Review Pro in precisely the way you want.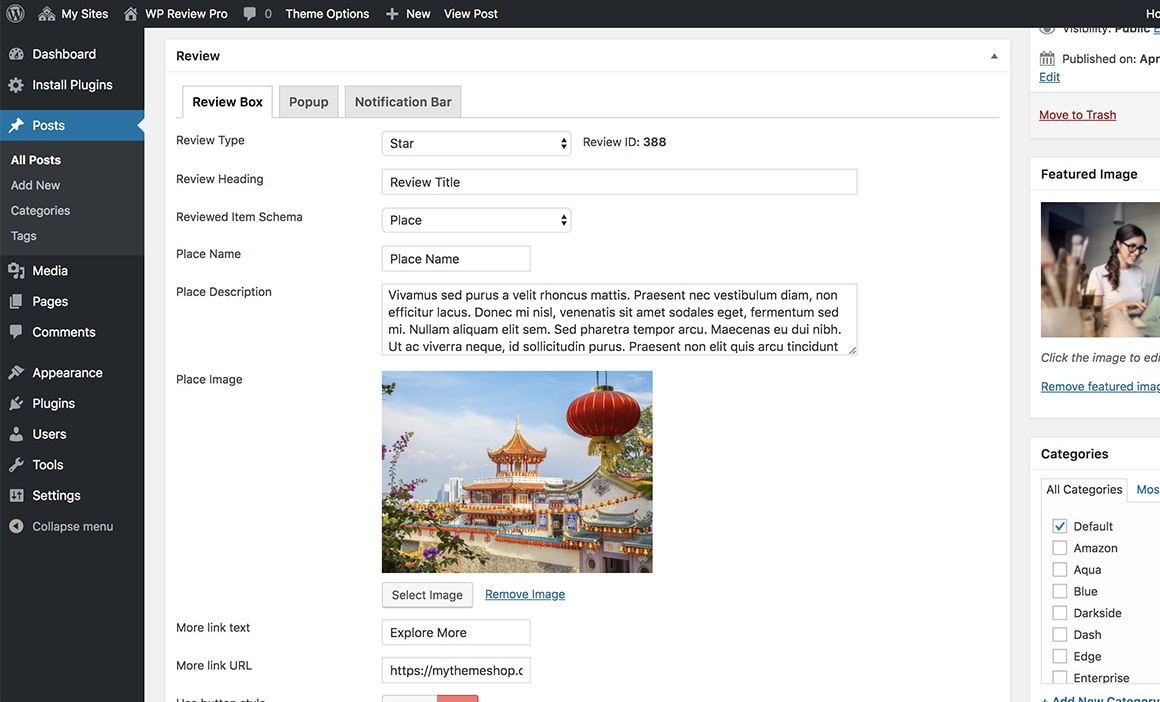 For customers, WP Review Pro will be priced at just $87 per year. With such a low price, customers are bound to jump on board very quickly.
For limited time, and for a limited number of slots, the price of WP Review Pro will be reduced to just $87 $47 per year.