WP Real Estate WordPress Plugin is a professional property listing plugin that is free and available for anyone to download and use in multiple sites.
In contrast with other real estate plugins, WP Real Estate takes an inclusive approach to all property listing needs, making it an ideal plugin for any real estate website.
This plugin is fit for real estate agents, brokers, property firms and anyone looking for a reliable, fast and professional solution to building a real estate website using WordPress.
And, the best part is that WP Real Estate plugin is 100% FREE and will always be free. You can download it and try it out immediately.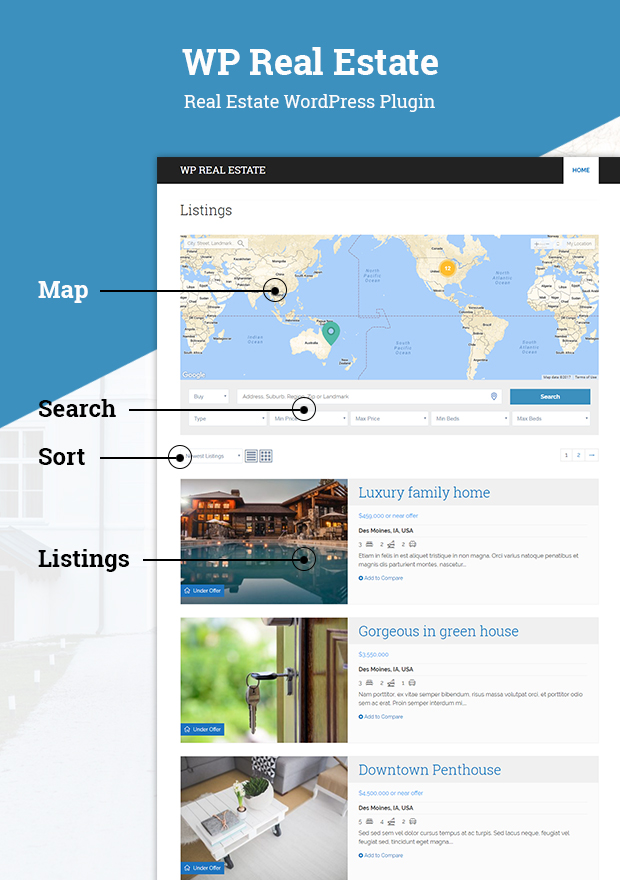 You do not need to be a WordPress super developer to build an incredible property listing website. In fact, you just need this plugin to get started the fastest way ever!
Key Benefits of WP Real Estate WordPress Plugin
– Now you don't need to be a skilled developer to build a professional property listing website. This real estate plugin can be integrated into existing or new WordPress site.
– This amazing plugin is 100% free and will always be free with no extra charges, and you can use it on multiple websites
– The plugin is developed with geographical location feature that helps visitors locate nearby properties.
– The plugin is 100% compatible with all WordPress themes and can be easily customized to fit your theme design.
– You can now build a successful property listing website that has agents listing at a zero cost since the plugin is free!
– You can leverage on this opportunity to quickly build a realty website and pay more attention to marketing since this plugin saves you development time and resources.
Features of WP Real Estate WordPress Plugin
– Compatible to All WordPress Themes
– Advanced Search Form
– Google Map Integration
– Capture Enquires
– Social Share Buttons
– Agent Listings
– Nearby Listings
– 5 Custom Widgets
– Show Exterior & Interior Features
– Contact Agent Form
– Show Property Status
– Show Property Type
– Grid or List View
– Advanced Shortcodes
– Compare Listings
– 365x24x 7 Direct Support
The most suitable themes for WP Real Estate WordPress Plugin:
Bridge – Multipurpose WordPress Theme
Dividend – Excellent Magazine WordPress Theme
BloggingBox – MultiPurpose WordPress Blogging Theme
Builders – Responsive WordPress Theme
OnePage Lite – Free WordPress Theme